'Yang Indah-Indah', Bahasa dan Ideologi dalam Pantun Perbahasan Parlimen Ke-14
'Yang Indah-Indah', Language and Ideology in Discourse of Pantun of Dewan Negara 14th Parliament
Keywords:
Puitika Sastera Melayu, Parliamentary discourse, Pollitical Discourse Analysis, Dewan Negara
Abstract
As the oldest Malay literary art form, Pantun aspires to the creation of 'yang indah-indah'. In addition to the harmonious musical elements, vivid alternate rhymes that are both perceived, the beauty of a Pantun lies in its ability to convey deductive meanings using solid and transcendental allegory. For this reason, politicians are inclined to make use of this art form as a discursive strategy in political discussions despite its brevity due to its accurate, concise, and captivating quality and its deep effect on readers.  Consequently, discourse Pantun becomes one of the important sources of explanation of the phenomena of language and power that take place in political discourse. Therefore, this study aims to elucidate the relationship between language and power that exist in Pantun forms, as well as to analyse the principles that support the aesthetics of Pantun recited in the Fourteenth Parliament of Senate Assembly's Hansard text.  Van Djik's Ideological Square Scheme within the Critical Discourse Analysis is applied, along with Muhammad Haji Salleh's literary theory Puitika Sastera Melayu (PSM). In short, in addition to its procedural function, it was found that poetry plays an important role in generating binary polarization through various discursive strategy such as Evidentiality, Self-Glorification, Victimisation, Burden, Lexicalisation, Illustration, Argumentation, Generalisasion and Metaphore. The selection of Pantun in this study dynamically and relatively fulfilled all six principles of 'yang indah-indah' of PSM theory. 
Downloads
Download data is not yet available.
References
Abdul Halim A., 'Konsep Keindahan dalam Kesusasteraan Melayu Tradisional' (2011) 2(1) PENDETA-Jurnal Bahasa dan Sastera.
Abdul Halim A., Kritikan Estetik Dalam Kesusasteraan Melayu: Satu Pandangan Baharu (Perak, Universiti Sultan Idris, 2012).
Affandi H. M., Yang Hampas dan yang Bernas dalam Teori Sastera Malaysia (Kuala Lumpur, Dewan Sastera, 1991).
Ahmad M.T., Kurik Kendi Merah Saga (Kuala Lumpur, Dewan Bahasa dan Pustaka, 2020).
Aman R., 'Bahasa Dan Kuasa: Analisis Wacana Barisan Nasional Dalam Pilihan Raya Umum Malaysia Ke-11' (2008) Akademika.
Anwar K., 'Tradisi Sastera Johor-Riau: Suatu Kajian Terhadap Syair Sejarah'(Tesis Kedoktoran, Nanyang Technological Institute, 2016).
Bernama 'Isa Ab Hamid Sworn In As Senator For Second Term'New Straits Times(2019) <https://www.nst.com.my/news/nation/2019/04/481829/isa-ab-hamid-sworn-senator-second-term>
Boon, C.T. 'Srivijayan Buddhist Logic and Its Impact on the Malay Pantun' (2020) 13(1) Jurnal Antarabangsa Dunia Melayu.
Braginsky V.I., Yang Indah, Berfaedah dan Kamal: Sejarah Sastera Melayu dalam Abad 7-19 (Jakarta, INIS, 1998).
Brannon D. J., 'There is That Line Again: Revealing the Pantoum in Context <http://stonetelling.com/issue3-mar2011/brannon-pantoum.html>
Daillie F.R., Alam Pantun Melayu: Studies on the Malay Pantun (Kuala Lumpur, Dewan Bahasa dan Pustaka, 1988).
Djajadiningrat R. H., Erti Pantun Melayu yang Ghaib (Petaling Jaya, Malaysia, 1965).
Eizah M. H., 'Simbol dan Makna dalam Pantun Melayu' (Tesis Kedoktoran, Universiti Malaya 2016).
Fairclough N., Language and Power (London, Longman, 2013).
Fairclough N., Analysing Discourse: Textual Analysis for Social Research (London, Routledge, 2003).
Ghaffari S., 'Discourses of Celebrities on Instagram: Digital Femininity, Self-Representation and Hate Speech (2020) 19(2) Critical Discourse Study.
Halim M. Z. A., 'Bukit Lagi Bintang Berkarang: Manifestasi Puitika Sastera Melayu' (Persidangan Antarabangsa Bahasa, Sastera dan Budaya Melayu (RENTAS), Universiti Utara Malaysia, 2-3 Jun 2021)<https://anyflip.com/trfpm/zoqs/basic>
Harun M.P., 'Realiti dan Kreativiti Pantun Melayu' dalam Wan Ab. Kadir Wan Yusoff. (ed.), Pantun Manifestasi Minda Masyarakat (Kuala Lumpur, Akademi Pengajian Melayu, Universiti Malaya, 1996).
Harun M.P., Puisi Melayu Tradisional: Satu Perbincaraan Genre dan Fungsi (Kuala Lumpur, Dewan Bahasa dan Pustaka, 1989).
Hussain E. M., Ali T. I. M. T. M., dan Jaafar S., 'Simbol Tumbuhan Dalam Pantun Dari Perspektif Puitika Sastera Melayu' (2015) 26(1) Jurnal Pengajian Melayu (JOMAS).
Ismail H., 'Teori Puitika Sastera Melayu: Interpretasi dan Praktikaliti' (2019) 30 MANU-Jurnal Pusat Penataran Ilmu dan Bahasa (PPIB).
Ismail Y., Kesusasteraan Lama Dan Baru (Sintok, Universiti Utara Malaysia, 2008).
Jelani H., 'Manuskrip 'Panthong' dari Sri Lanka' (2018)
N.A., Omar A.A., Samin N.A.I., dan Hisham A. N., 'Penggunaan Pembayang Unsur Alam dalam Pantun Siber: Analisis Kelogikan'(E-Proceeding: Insan Junior Researcher International Conference (iJURECON), Nilai, 17-18 November 2020) <https://oarep.usim.edu.my/jspui/handle/123456789/7436>
Noor N., dan Hamid B.A., 'Cyberbullying in the Name of God: Critical Discourse Analysis of Online Responses to The Act of De-Hijabbing in Malaysia' (2021) 27(4) 3L: Southeast Asian Journal of English Language Studies.
Nor N.F.M., Abdul Rahman A.A.N.C., Jaludin A., Ho Abdullah I., dan Tiun S., 'A Corpus Driven Analysis of Representations Around the Word 'ekonomi' in Malaysian Hansard Corpus' (2019) 19(4) GEMA-Online Journal of Language Studies.
Overbeck H. F., 'The Malay Pantun' (1922) 85 Journal of the Straits Branch of the Royal Asiatic Society.
Pantoum <https://poets.org/glossary/pantoum>
Partington S., Corpus Analysis of Political Language (2013).
Razali L.S., dan Radzi S. B. M., 'Motif Maritim Dalam Pantun Melayu' (2023) 3(1) Jurnal Tuah.
Salleh M.H., Puitika Sastera Melayu Edisi Ketiga (Kuala Lumpur, Dewan Bahasa dan Pustaka, 2021).
Setyadiharja R., Khazanah Negeri Pantun (Yogyakarta, Deepublish, 2020).
Setyadiharja R., 'Pantun: Transformasi dari Tradisi Lisan, Tradisi Tulisan Hingga ke Seni Pertunjukan: Studi pada Pantun Melayu di Provinsi Kepulauan Riau' (2016) Pekan Sastra Wilayah Sumatera.
Van Dijk T.A., 'Ideology and Discourse Analysis' (2006) Journal of Political Ideologies.
Van Dijk T.A., 'Critical Discourse Analysis and Conversation Analysis' (1999) Discourse & Society.
Van Dijk T.A., 'What is Political Discourse Analysis?' (1997) 11 Belgian Journal of Linguistics.
Za'ba, Ilmu Mengarang Melayu (Kuala Lumpur, Dewan Bahasa dan Pustaka, 1965).
Zain R. M., dan Aendi N. R. N. M., 'Unsur Estetika Bahasa Dalam Novel-novel Pemenang Sayembara Fiksyen Sains dan Teknologi 2012-2017'(2019) 30 MANU-Jurnal Pusat Penataran Ilmu dan Bahasa.
Zainal A.B., dan Ramli R., Pantun Warisan Rakyat (Kuala Lumpur, Jabatan Kebudayaan dan Kesenian Negara, 2008).
Zuraimi N. A. F., 'Estetika Dan Kebijaksanaan Dalam Pantun Melayu: Suatu Kajian Berdasarkan Puitika Sastera Melayu' (Tesis Kedoktoran, Universiti Malaysia Kelantan, 2022).
Zurinah H., Unsur Alam Dalam Puisi Melayu Moden (Bangi, Universiti Kebangsaan Malaysia, 2010).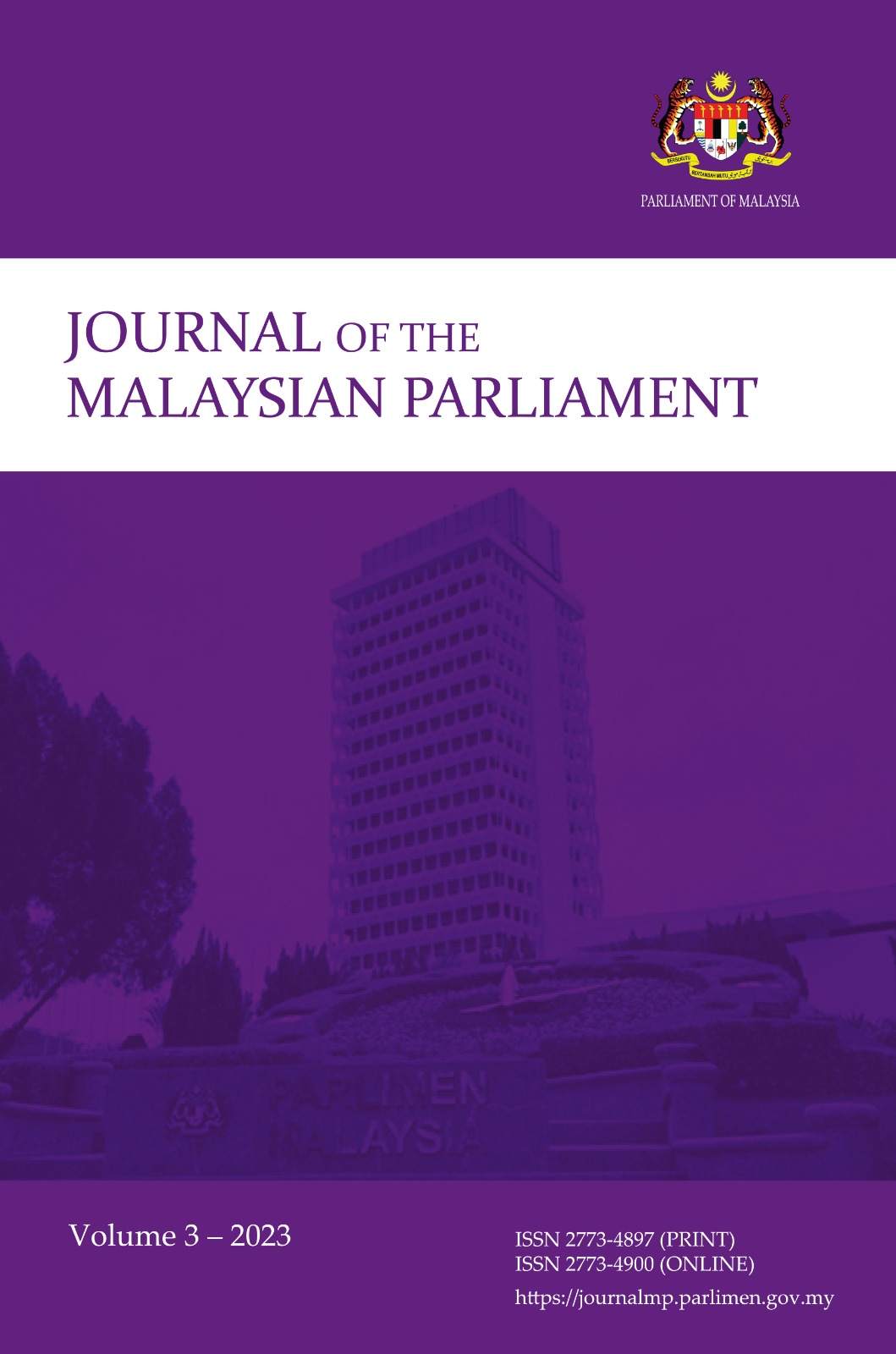 Downloads
License
Copyright (c) 2023 Journal of the Malaysian Parliament
This work is licensed under a Creative Commons Attribution-NonCommercial-ShareAlike 4.0 International License.